Women, I am going to go ahead and speak directly to you here, since I know we all feel the same pain when it comes to our periods. Let's all think about that joyous time of the month for a second. For 12 weeks out of the year, we have the privilege of being bloody, moody, bloated and cramped. A week full of hot tea, Advil and heating pads. What if I told you that there is a new, seemingly more effective way to relieve period cramps? I introduce you to a company called Foria, and their product is simply named — Relief.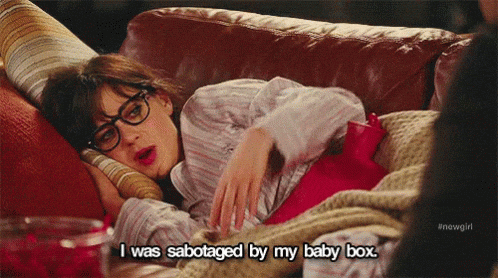 Foria Relief will come to your doorstep in the form of a small white tin box containing four individually wrapped vaginal suppositories, made from concentrated organic cocoa butter. Yes, organic cocoa butter, along with CO2 Distilled THC Oil and CBD Isolate. In case you are not familiar with THC or CBD, they are the two main ingredients found in a marijuana plant. Put all this information together and Foria Relief is a vaginal insert shaped like a tampon that contains cannabis oil and is made specifically to provide muscle relief during your period.
Did I get your attention? While this product may, in fact, get your reproductive system stoned, you will not necessarily become high from using it. Inserting it into your vagina will allow the medicine to be directly absorbed into your bloodstream, so it can take effect faster than other pain relievers.
Disclaimer: this product is not yet FDA approved, and it has not been clinically studied in women. However, it is a fact that cannabis-based products help to relax the muscles, and the uterus is, of course, a muscle. Foria could definitely be onto something. Millions of women experience extreme pain when they are visited by Aunt Flo every month, especially in those suffering from endometriosis — a painful condition where tissue that lines the womb is found outside of the uterus.
This is not the first product that Foria has released. Over a year ago, the company debuted its weed lube, called Foria Pleasure. The product contains medical cannabis oil and liquid coconut oil, and was designed to 'unlock pleasure with all-natural sensual enhancement oil designed specifically for women.' Foria Pleasure is meant to be sprayed directly on or inside the vagina. (Everyone's reaction to THC is different, so the company encourages you to use the spray where it best effects your body.) Allow 15 minutes for maximum absorption.
Foria sells the lube in a 10ml spray bottle for $38, and you can snag a four-pack of suppositories for $44. It might be a little pricey, but it could absolutely be worth spending. It also sounds a lot better than popping pain pills, overheating your heating pad and feeling the urge to rip your uterus out.
Check out the company's website for more info, and watch the video below to hear David Wolfe's opinion on the healing powers of cannabis!
h/t: Broadly